Ugandan Minister of Agric. to launch project to boost banana production in East and Central Africa
20 May 2015
The project seeks to develop new disease and pest resistant hybrid varieties of 
Matooke
and
Mchare
― two popular cooking banana types grown by farmers in East Africa.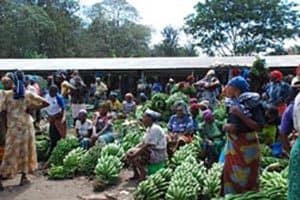 Dar es Salaam, Tanzania. A five-year project seeking to boost ongoing efforts to deliver high-yielding, disease resistant, and superior cooking banana varieties to increase food security and improve incomes of smallholder farmers in the Great Lakes region will be officially launched today, 20 May 2015, in Kampala, Ug anda.
The project will be officially launched by the country's Cabinet Minister of Agriculture, Animal Industry and Fisheries, Hon. Tress Bucyanay andi (MP), in an event that brings together all project partners from five continents. Thereafter, the partners will fine-tune the project's implementation plan.
Banana is a very important crop in the Great Lakes region where it is both a staple crop and a source of income for millions of smallholder farmers. However, its yield is very low at only 9% of its potential. Production is greatly hampered by a myriad of pests (weevils and nematodes) and diseases including Fusarium wilt, bacterial wilt, and black Sigatoka.
The project, funded by the Bill & Melinda Gates Foundation and led by the International Institute of Tropical Agriculture (IITA) in collaboration with the Ug andan and the Agricultural Research Institute (ARI) of Tanzania, will boost national banana breeding efforts to develop superior varieties of two popular groups of cooking banana, the East African Highl and bananas, locally known as Matooke in Ug anda, and the Mchare in Tanzania.
"Conventional breeding of new improved banana varieties is complicated and takes a long time but the farmers do not have the luxury of waiting as currently the crop is under serious threat from major pests and diseases. The project will therefore assist in making the national breeding programs in Ug anda and Tanzania work more efficiently and faster using advanced technologies such as molecular markers," says Prof Rony Swennen, a banana breeder at IITA/University of KU Leuven and the project's coordinator. "The project will improve the technical capacity of the researchers including education of local PhD and MSc students."
"We are aiming to develop hybrid banana varieties that will have at least 30% higher yield and 50% better resistance to at least three of the target pests and diseases compared with the current varieties grown by the farmers," says Prof Tushemereirwe Wilberforce, Director of Research, National Agricultural Laboratories (NARL) of NARO. "For them to be easily adopted, they should also meet over 90% of the quality traits dem anded by consumers."
The project builds on the successes of the many years of joint collaboration between the banana breeding efforts of NARO and IITA that led to the development of 25 hybrids for food and juice dubbed NARITA hybrids– from NARO and IITA. These are currently undergoing performance trials in Ug anda.
In collaboration with Bioversity International and national partners in Ug anda and Tanzania the project will also support the on-farm testing of these hybrids in Ug anda and Tanzania, including participatory variety selection with farmers and other consumers to ensure the new hybrid varieties meet their preferences and needs.
The project is part of the CGIAR Research Program on Roots, Tubers and Bananas. Other partners include six universities (the University of Malaya, SLU-Sweden, Stellenbosch University-South Africa, Cornell University-USA, KU Leuven-Belgium, and the University of Queensl and-UQ-Australia), , and national breeding programs of the Brazilian Agricultural Research Corporation (EMBRAPA) and the National Research Centre for Banana (NRCB) of India).
###
For more information:
IITA
Danny Coyne: Project Leader and Soil Health Scientist, IITA-Tanzania; E-mail: D.Coyne@cgiar.org
Catherine Njuguna, Communications Officer, IITA-Eastern Africa; E-mail: C.Njuguna@cgiar.org
NARO
Dr Jerome Kubiriba, Programme Leader, National Banana Research Programme, NARO; E-mail: jkubiriba2012@gmail.com
Patricia Nanteza, Communications Officer, NARO; E-mail: pnanteza@yahoo.com
About IITA www.iita.org
IITA is one of the world's leading research partners in finding solutions for hunger, malnutrition, and poverty. Its award-winning research-for-development (R4D) approach addresses the development needs of tropical countries. IITA works with partners to enhance crop quality and productivity, reduce producer and consumer risks, and generate wealth from agriculture. It is a nonprofit organization founded in 1967 in Nigeria and governed by a Board of Trustees. IITA works on the following crops: cowpea, soybean, banana/plantain, yam, cassava, and maize. It is a member of CGIAR, a global agriculture research partnership for a food secure future.
About NARO
The National Agricultural Research Organisation (NARO) is the apex body for guidance and coordination of all agricultural research activities in the national agricultural research system in Ug anda. NARO is a public institution established by an Act of Parliament enacted on 21 November 2005.