IITA's main priority is securing a stable and food secure future for sub-Saharan Africa. To do this we focus on key research themes that look at staple food crops, including banana and plantain, cassava, cowpea, maize, soybean, and yam.
Enhancing nutritional value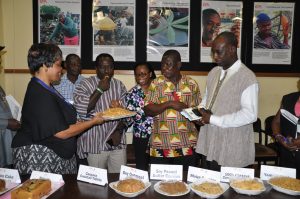 The majority of the population in Africa lives in rural areas and depends on what they grow to feed themselves. However, most rely on a major staple that offers calories but usually inadequate nutrients leading to malnutrition or "hidden hunger". Read more
Improving crops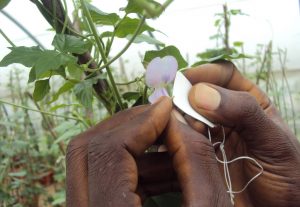 We develop better crop varieties with enhanced yield and that are suitable for tropical agroecologies, with tolerance or resistance to pests and diseases, and difficult environmental conditions. These varieties have traits that satisfy the changing demands of processors and consumers, and are improved using advanced biotechnological tools. Enhancing crops through selective breeding and genetic modification means we are able to release better varieties to farmers throughout the region. Read more
Improving livelihoods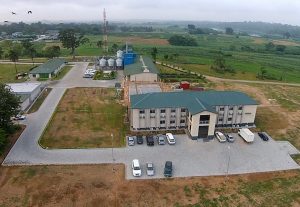 At IITA we are especially concerned with nutrition and health, getting women and youths involved in agriculture, and expanding agribusiness opportunities. We help ensure the development of supportive policies and institutions for smallholder producers to increase their income through better access to markets. We look at poverty reduction strategies and conducive policy frameworks to ensure the impact of our work, and enhance the nutritional quality of food products along the crop value chains. Our R4D outputs are commercialized into agricultural products, helping to stimulate effective private–public partnerships.
Our research themes are designed to provide solutions for agricultural and developmental challenges facing rural farming communities and urban populations alike, while leveraging business interests to boost the economy. Through our research, we want to make sure that long-term growth in the agricultural sector includes and benefits everyone in the region.  Read more
Making healthy crops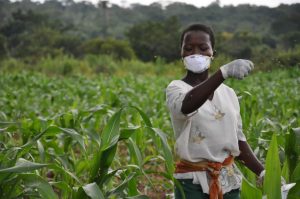 Developing healthy crops goes hand in hand with crop improvement. We develop ecologically sustainable, economically profitable, and socially acceptable solutions for pest, pathogen, and weed control, and climate change constraints. We also promote promising crop management options for specific climatic and cropping system conditions, and approaches that facilitate the availability and dissemination of good quality planting materials to farmers. Concentrating on pest and disease management, healthy seed distribution and toxin control, IITA can guarantee that our improved crop varieties stay healthy and productive. Read more
Managing natural resources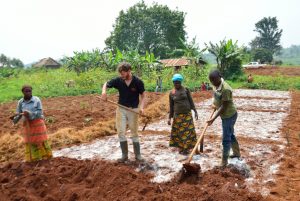 We find ways to manage natural resources in a sustainable way. We work on natural resource management, particularly on sustainable intensification of farming systems. We study soil biological processes, beneficial organisms and their mechanisms, management strategies, and soil input products ensuring effective nutrient-use. We develop best-fit integrated soil fertility management practices with local communities, including matching improved germplasm and technologies, and using farmers' innovations. Combating the effects of climate change means farmers can keep producing food and yet still enhance environmental resiliency. Read more